CLASSIC IRELAND
This is your tour and we want it perfect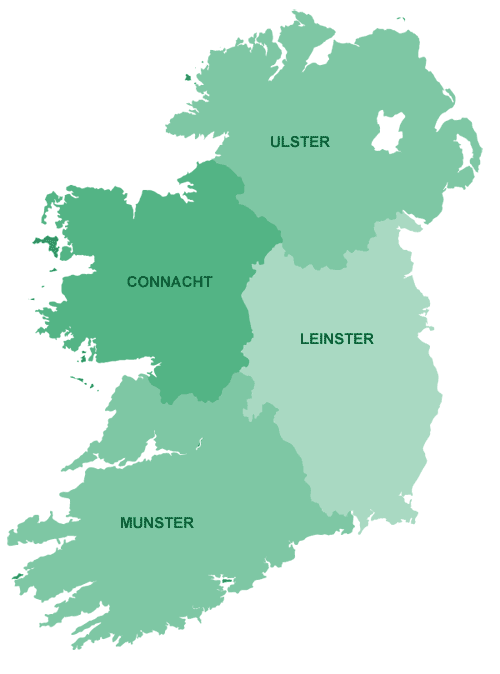 €160
Day 1 – To the West of Ireland :
It's a world wind site seeing excursion of Dublin's fair city before departing for Galway. On the way we stop at Clonmacnoise, one of Ireland's most famous early Christian sites. The site includes the ruins of a Cathedral, 3 churches, 2 round towers and high crosses. Following our arrival in Galway and an early dinner it's time to enjoy a traditional Irish night out at 'Trad on the Prom', which includes the best of Irish music, song and dance.
Overnight in Galway
Day 2 – Connemara :
See the hidden Ireland off the main tourist track this tour is a must with the first stop at Ross Errily Friary - a hidden but atmospheric 14th century monastery before entering Cong Village where you have time to explore Cong Woods to see Ashford Castle or stroll the town famous for being the location for the 1950s classic movie, 'The Quiet Man' or simply have a coffee on the edge of Lough Corrib the largest lake in the Republic of Ireland. Entering Connemara on the Lough Nafooey route allows you to see the stark beauty of the hidden valley of Connemara before arriving at the Atlantic Ocean. The tour then continues to Kylemore Abbey where we break for lunch and sightseeing for 1 hr 45 mins. Admission into Kylemore Abbey & Gardens is not included (discounted tour rate €8.00 P/P). Leaving Kylemore late afternoon we drive through the spectacular Inagh Valley, Maam Cross & Oughterard and complete the circuit of Lough Corrib before arriving home to Galway City. A truly magical day out in typical Irish countryside, let us bring it to life and inform you of the many legends from killer sheep to lake monsters!
Overnight in Galway
Day 3 – Galway to the Kingdom of Kerry:
Taking you along Galway Bay, your first stop is at the fishing village of Kinvara to see Dunguaire Castle & into The Burren-home to 75% of Ireland's native flora and fauna. Walk on the lunar like landscape of the Burren and take in sights such as Leprechaun Head with incredible views toward the Aran Islands. Experience the Cliffs of Moher Cruise a unique experience providing a bird's eye view of the dramatic Cliffs of Moher rising to a height of 214 metres from the Atlantic Ocean. Continue via the Killimer to Tarbert car ferry to the bustling charming town of Killarney.
Overnight in Killarney
Day 4 – The Ring of Kerry:
The Iveragh Peninsula contains one of Ireland's most spectacular mountain roads "The Ring of Kerry". Over the centuries it has been the inspiration of poets and writers because of its magnificent coastal scenery and rugged countryside. We'll tell you all you need to know while travelling the ring… but what is the Ring of Kerry? Well, it's a route a trail a road. But this is no ordinary road. It's a road that takes you through 10,000 years of dramatic history. It's a road that takes you from deep forest to the crashing waters of the Atlantic. It's a road through rugged, majestic landscapes: where wild stag roam and where tumbling waterfalls crash into crystal streams teeming with wild salmon. It's a road that shows you the Ireland both past and present.
Overnight in Killarney
Day 5 – To Dublin via Kilkenny:
Stopping in the once medieval capital of Ireland, the city has a rich heritage visible though its narrow streetscapes; its historical buildings and landmarks. Kilkenny is also renowned as a world class craft centre, which has its origins in the Design workshops of the late 1960s', the story of which can be explored in the Castle Yard site. One of the best and unique features of Kilkenny is its compactness allowing you explore everything it has to offer on foot.
Overnight in Dublin
Day 6 – Dublin City to Glendalough:
Encahanting morning visit to Wicklow. For thousands of years people have been drawn to 'the valley of the two lakes' for its spectacular scenery, rich history, archaeology and abundant wildlife. Glendalough is a remarkable place that will still your mind, inspire your heart and fill your soul. Return to Dublin with the evening free to explore local pubs and restaurants.
Overnight in Dublin
Day 7 – Farewell:
Before leaving for the airport our last stop is at the Guinness Storehouse. Sample a farewell glass of Guinness in the Gravity Bar which affords spectacular views of Dublin city. Transfer to Dublin Airport for departure flight home.
REMINDER:
All flight arrangements are made by the client; we only require confirmation of arrival and departure times/dates/airport and flight numbers. Tours Guided in Ireland, bespoke holidays
Price per person based on a tour group of 15 or more
Average price displayed and will vary depending on final Itinerary.
OUR CREDENTIALS:
Failte Ireland Approved Tour Guides
Fully Licensed and Insured
Approved Guide by the Coach Tourism and Transport Council of Ireland.
Registered with the Companies Office of Ireland as a business.
Licensed to drive Small Public Service Vehicles
Licensed to drive Large Public Service Vehicles (Class D & D1)
Member of Institute of Advanced Motorists
All vehicles fully licensed and insured for touring.
Please read our full terms and conditions: